MWS offers high quality intercoms, designed for a use in noisy environment such as security stations, parking entries, halls, highway tolls or hospitals. These intercoms are used to make or receive calls in optimal conditions.
They are made to be used with all IPs and phone terminals of the company. SIP and RTP protocols, used by the major players working in the industry, insure a compatibility with existing and future VOIP terminals. The power is supplied by the Lan (POE 802.3af). The use of the existing network minimize installation costs.
Operating diagram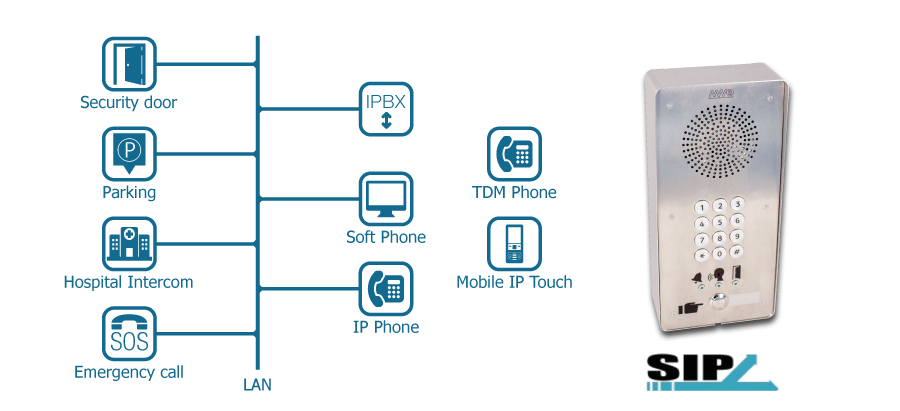 Advantages
Intercoms are compatible with all of the SIP phones
Connection to the network without any other proprietary equipment
4 types of intercoms customized on demand
Preregistered destination
Multi-destination keyboard
Electronic card for furniture integration
Use of the LAN network
Configuration via web interface
Remote tests
Power POE/24Vs
Use of existing PBX
Optional functionality for Mobility Impaired Persons
Operational gains: logical and simple use, dialing of one or several numbers
Internal an external applications
High audio quality, clear messages even in noisy environment
POE facilitates the power supply
Anti-theft protection IK07
Waterproof: IP65
Financial savings: fast and economic savings
Reduce maintenance costs
Reduce investments
Download
Fill-up the contact form below to download the documentation.